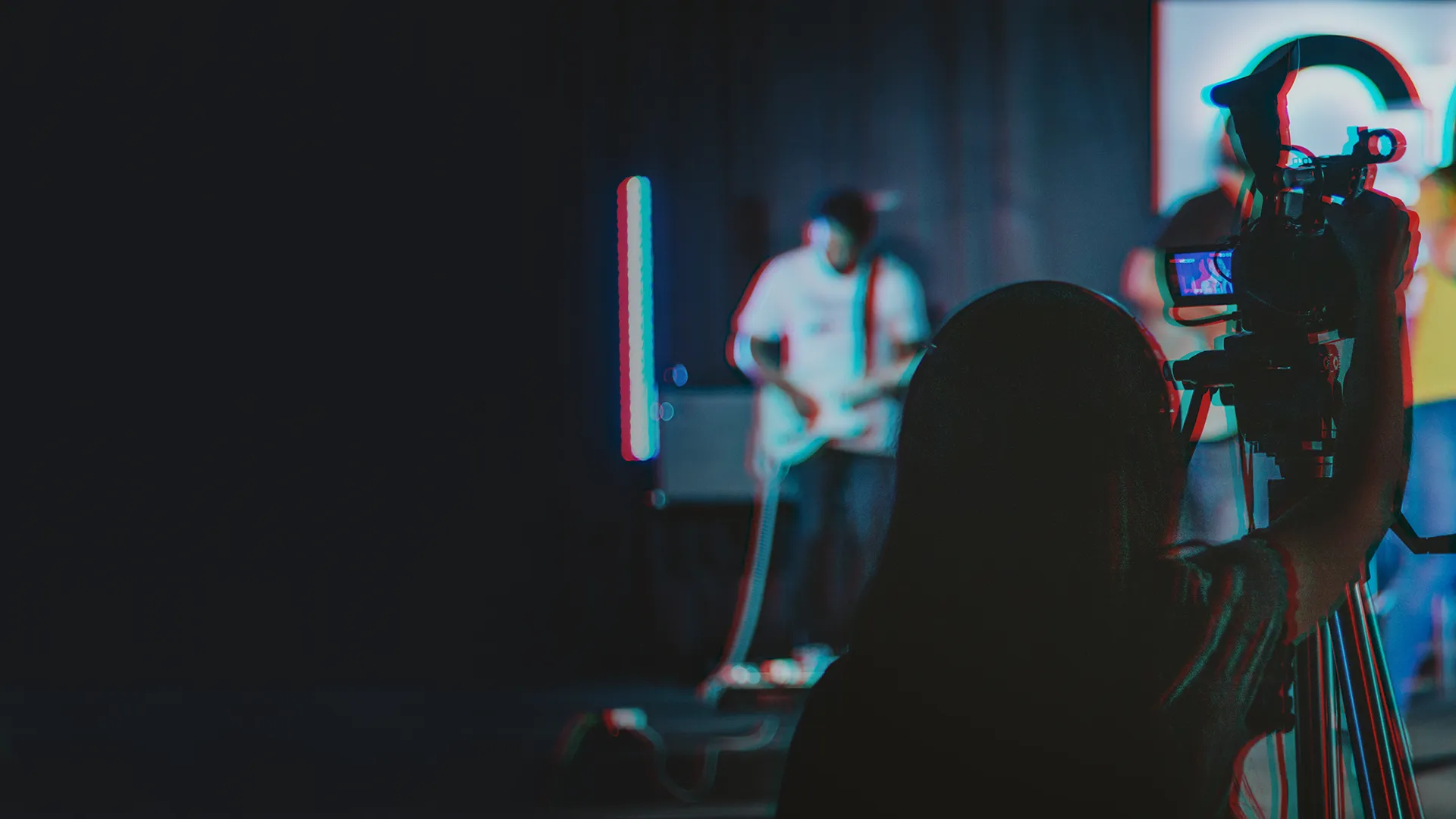 Connecting you with

headline-grabbing talent.
Looking for candidates you can shout about? Let us help you build media, advertising and broadcast teams that'll make you go viral.
Top candidates are one tap away
The media, advertising and broadcast industry is evolving faster than you can hop on a Tik Tok trend.
Whether it's digital, Adtech or OOH advertising, we take the time to truly understand what you need.
And, we find the best people to match. 
Our consultants have worked alongside digital and media agencies since the Blackberry days, meaning you'll have access to an extensive network of candidates for your roles. From direct sales to digital production to marketing, you'll be speaking to consultants who really know their stuff (as well as the best places to grab a coffee). 
Panning into your tech hiring challenges:
Limited bandwidth

Media companies may not have the technical expertise required to effectively screen, interview, and hire tech professionals.

Tough competition

In the battle for top talent, how can you stand out to attract the very best?

A difficult brief

You need experts with strong technical skills and knowledge of the industry. Finding both can be harder than keeping your CPC down.

Staying relevant

Keeping up with the latest media trends is essential. But how do you find experts with specialised knowledge of emerging technologies?
Building broadcast-worthy teams for global brands
Receptionist // Leading Entertainment...

Contract
AU$35 - AU$50 per hour + inclusive of super
Sydney , AUS

Short term contract position Sydney CBD location Free Daily meals, $10/day staff parking $38-$50 per hour inclusive of super A Leading Entertainment Organisation is currently seeking a...

Senior Account Manager // Leading Outdoor...

Permanent
+ Super + $40K Comms
Sydney , AUS

Exciting opportunity being part of a leading OOH media organisation! Highly supportive leadership alongside a performing team. Love promoting within! Stories to share… We are partnered with an...

Safety & Risk Coordinator

Permanent
Negotiable
Perth , AUS

Talent International has partnered with a well known Australian Client, looking to fill a Permanent Full-time Safety and Risk Coordinator Position within Perth, Western Australia. Reporting to the...

Contract
AU$500 - AU$800 per day
Sydney , AUS

Sydney CBD Fringe location with WFH Flexibility $10 parking, free daily meals, and more Up to $800 per day 6 month contract A leading Entertainment organisation is looking for a Senior Workforce...

Permanent
AU$155000 - AU$165000 per annum
Sydney , AUS

Permanent Career Opportunity Flexible Work Arrangements – Working from home flexibility, no mandated days in the office Free daily lunch, $10/ day parking, Discounts to Award winning...

Senior Change Manager // Leading...

Contract
AU$110 - AU$125 per hour
Sydney , AUS

Initial 6 month contract (highly likely to extend) Extensive benefits such as free daily breakfast & lunch, $10/day staff parking + more Sydney CBD Office Location with working from home...

Employee Relations Compliance Specialist

Contract
Negotiable
Sydney , AUS

6 month contract opportunity (opportunity for extension) Sydney based with WFH Flexibility and Flexible hours Competitive & Flexible Daily Rate on offer Free daily lunch, $10/day parking and...

Employee Relations Compliance Manager

Contract
Negotiable
Sydney , AUS

6 month contract opportunity (opportunity for extension) Sydney based with WFH Flexibility and Flexible hours Competitive & Flexible Daily Rate on offer Free daily lunch, $10/day parking and...
$2m

Investment in advertising

Ensuring that your roles get maximum exposure anywhere in the world.

30k

Candidates with media experience

Access to the largest database of vetted digital media talent globally.

100+

Media clients

Supported by over 250 specialist sourcing consultants across 10 global offices.

25

Industry awards

Awards aren't everything but we are proud to have received over 25 industry awards in the past 10 years.
The team at Talent International has been our dedicated partner for the past several years, and we look forward to continuing this strong collaboration. Throughout numerous pivotal digital and transformation projects, Talent International has consistently provided us with exceptional candidates, meeting our urgent deadlines without sacrificing quality. Their team goes above and beyond to delve deep into our business, getting to know our people, culture, and the unique requirements of each project and role.

Davanh Inthachanh




Director of People and Culture




7 Network

Talent has worked closely with us in assisting to build out our ANZ team. In that time, they have placed three hires for us across both sales and client services. I would highly recommend working with Talent, if you are looking to find great talent for your business

Elias Psarologos




Head of Sales ANZ




Blis

"The first thing that struck me about working with Talent, compared to other recruiters, was the business knowledge. Talent took the time to understand where we were as a business and our future goals. I think that's fundamentally where Talent got it right - they took the time to know my business and its personality. I don't even think about recruitment anymore as Talent completely take away the hassle."

Mark Wright




CEO




Climb Online
SunDrive Solar

How we increased SunDrive's workforce by 160% in 6 months.

Sage

Recruiting 100 contractors for one of the world's largest software companies.

Yahoo

How we handle the entire end to end recruitment and management of the organisations permanent and contingent workforce.

Hitachi

Driving change with Hitachi and their world-first automated train management system.

Swinburne University

How we ensured DEI practices were put in place throughout the hiring process

BHP

Finding candidates with the right culture fit to fuel up BHP teams.

Encore

How we helped Encore find & attract top MS Dynamics Talent.

Immutable

How we supported a team go from 3 to 200 to support their next phase of growth.

Shockwave Medical

Putting people at the heart of shockwave's life-saving mission.

Ralph Lauren

Helping leading fashion brand Ralph Lauren scale its digital capability into new countries.

Isentia

294 Hires across 8 locations. Discover how our intelligent and high-performing RPO solution is helping Isentia scale.

Brighte

How we enabled an organisation to grow at a rapid place, while still maintaining a positive candidate experience and attracting top talent.

Tātaki Auckland Unlimited

How we secured candidates 2 placements per month over a 9 month period.

SRA Information Technology

How we helped source and relocate top talent to help a client in a limited tech pool city

Adthena

A business that trusts us with 100% of their hiring needs

Social Meteor

How we hired 90% of roles within 1/3 of the time required

Presence

Presence is a digital product consultancy with unparalleled expertise - find out how we help supply that expertise on-demand

Finoa

How we're helping tech scaleup Finoa meet its ambitious growth targets

Innovia

Helping Innovia build a diverse Microsoft Dynamics team across North America.

Ableton

Recruiting game-changing leaders to help scale one of the world's leading creative technology brands.

LIFELENZ

A company that has grown and evolved together with Talent.
Talk to one of our Media recruitment experts
---