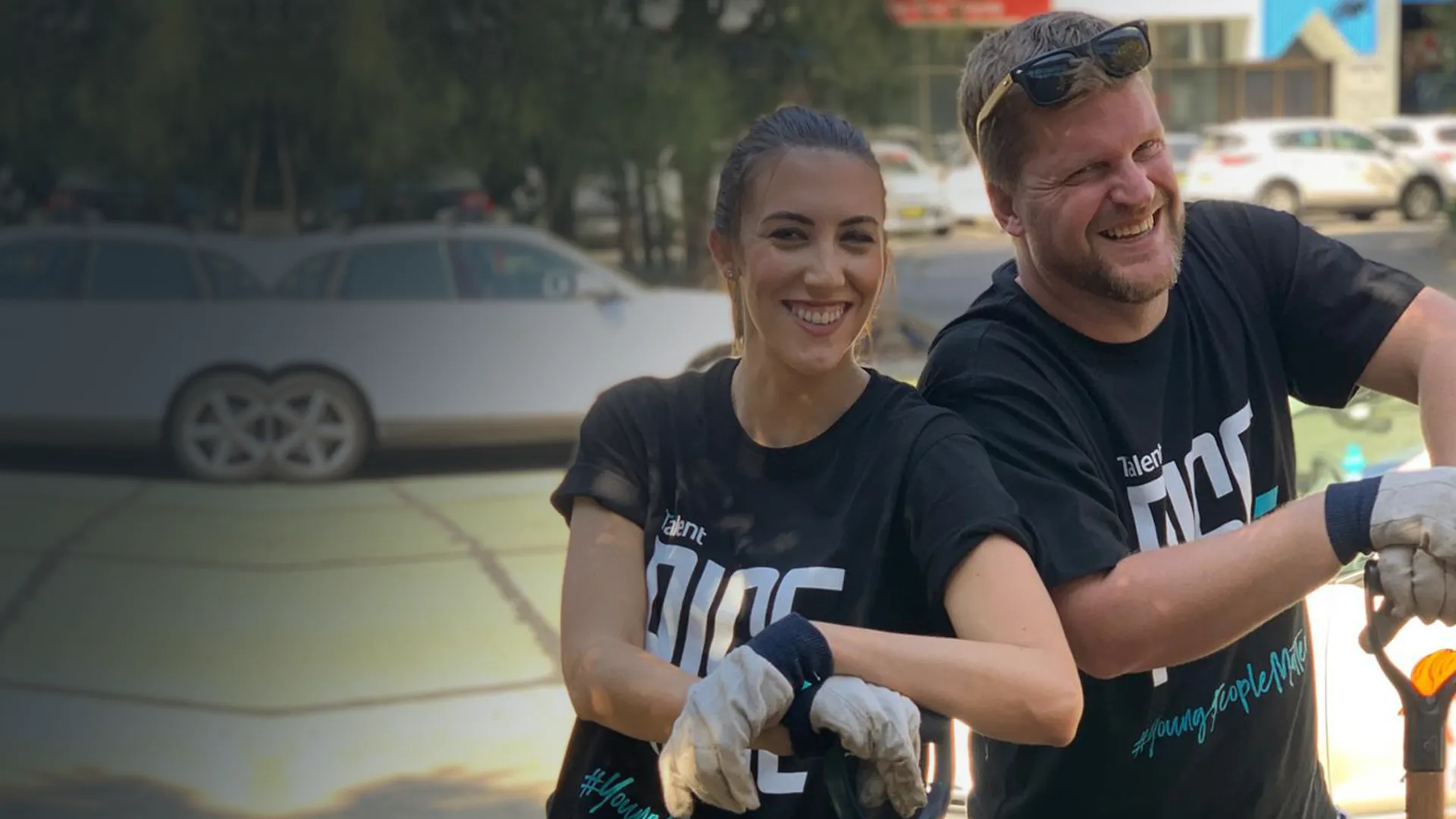 Building a sustainable future:
Our ESG commitment
Words on a poster with no action isn't us. We're actively committed to people, purpose and planet, and building a better world of work for all.
At Talent, we take our values pretty seriously. Our ESG strategy is no exception to the rule.
Over the past five years we have continued to build a world-leading organisation with an overarching vision of 'empowering people to build a better world of work'.
We are committed to creating a more sustainable future for the planet; nurturing the lives of the people we impact and creating opportunities to succeed; and ensuring we live up to our commitment of best practice corporate governance, transparency and accountability.
It's important to us that our ESG strategy has a holistic approach.
Lead the Way

We take the lead on driving positive social change in our industry and beyond by finding creative solutions that empower our community to thrive.

Strive for Better

We continuously strive to improve our standards, investing 50% of our profits back into innovation that challenges the status quo and rethinks what technology can do for people and planet.

Give a Damn

​We're professionally human, and we're passionate about helping others grow. We give back to our community to improve the lives of everyone we work with and create a true sense of belonging for all.
Putting words into action
A few of our ESG achievements, so far:
Created a carbon reduction strategy
Educated our teams on their carbon footprint
Increased diversity of our senior leadership team by 20%
Created an industry-leading parental leave policy
Recognised by global sustainability and ratings agency EcoVadis for our sustainability management and processes.
Overall, our goal is to create a sustainable future for people and planet.
Our stand for governance
Building out a risk management framework, agreeing on annual ESG reporting metrics, and increasing our leadership diversity are all things we are proud to put into action.
We are a values-led business through and through, and our work around ESG has been a true testament to that. In 2022, we learnt a lot along the way with trial and error, but above all, we delivered on our promise to a sustainable future for the planet and the lives of the people we impact. We have learnt a lot along our journey so far, and our plans for the road ahead are definitely going to make a sustainable and positive impact

Georgia Townsend




People & Culture Lead




Talent

ESG commitments and deliverables are becoming increasingly important measures of company value, as well as positively impacting our team and the communities we work with. The first year of our ESG journey has seen us make a great start through some key initiatives such as assessing our environmental impact and improving our parental leave policy. We are now looking forward to continuing the journey to deliver on our promise to ensure a sustainable future for the planet and the lives of the people we impact.

Karen Graham




CEO




Talent RISE, ANZ
Our Reconciliation Action Plan
As an Australian-founded business, our Reconciliation Action Plan (RAP) is an important first step in our reconciliation journey. Our mission is to bring real value to people and organisations by building highly skilled and engaged teams, rethinking technology solutions, and improving lives by creating a strong sense of belonging. To truly impact lives for the better, we understand this begins with embracing our responsibility to take positive steps towards reconciliation.
We're extremely proud to have our first Reconciliation Action Plan (RAP) endorsed by Reconciliation Australia. Throughout this plan, and future plans, we're committed to establishing and maintaining a deeper understanding of Aboriginal and Torres Strait Islander peoples across Australia.
Whilst we acknowledge that are we in the early stages of our reconciliation journey, we have taken some fundamental steps to initiate our journey, including becoming members of Supply Nation and creating a RAP working group. The role of the Reconciliation Working Group to date has been to formulate, oversee, and review the Reconciliation Action Plan, and on an ongoing basis they will implement and evolve the actions contained in this plan as we progress in our reconciliation journey. Our Reconciliation Action Plan Working Group includes representation from across our varied business units, a range of staff levels and geographic locations.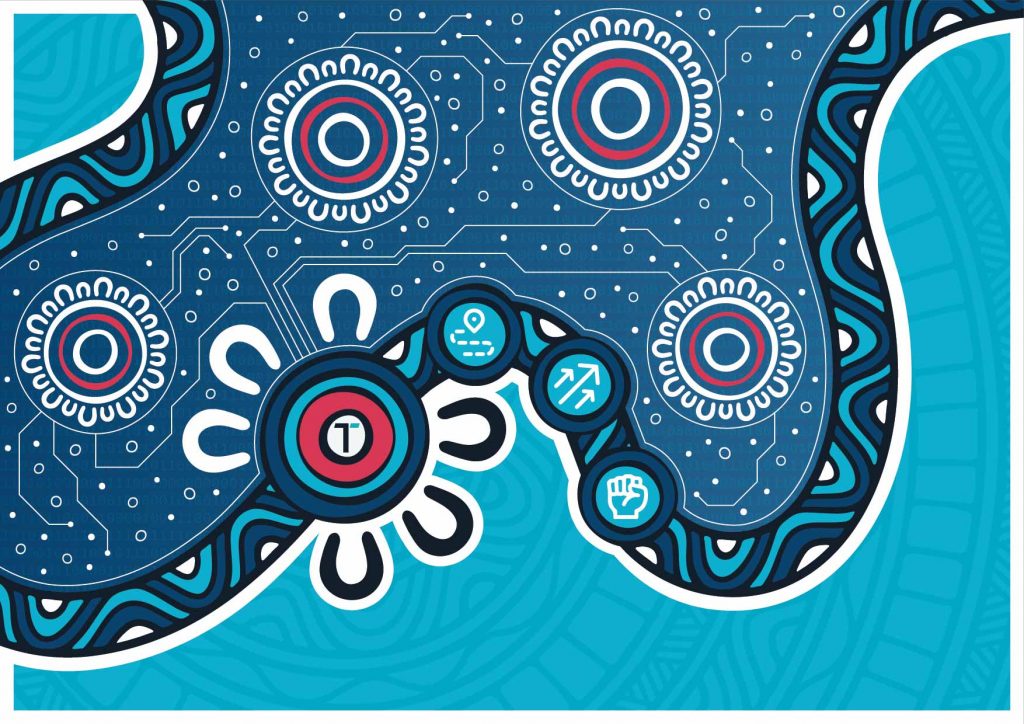 Our RAP Artwork
Artwork by Jordan Lovegrove, a talented Ngarrindjeri artist known for his captivating contemporary and abstract art.
Jordan's work for Talent illustrates our reconciliation journey, and how our community and culture is showing up along different phases of our RAP. Here's a breakdown of the amazing imagery created by Jordan:
Talent is represented by the large meeting place, we are at the start of our reconciliation journey
The big pathway going through the artwork represents our reconciliation journeyWe are being led by our core values – lead the way; strive for better; and give a damn
The meeting places in the top section of the artwork represent the different people and communities that Talent RISE work with to:
Provide life changing employment opportunities to young people facing challenging barriers to employment
Provide work readiness training, workshops, coaching and mentoring to help young people into employment and empower them to build thriving, sustainable careers
The pattern in the bottom section of the artwork shows our growth towards reconciliation and our commitment to creating the most rewarding experiences for our customers, clients, colleagues, and community.
Throughout this plan, and future plans, we are committed to establishing and maintaining a deeper understanding of Aboriginal and Torres Strait Islander peoples across Australia. Since our inception in Perth in 1995, the home of the Whadjuk Nyoongar people, Talent has been committed to ensuring diversity is prevalent and that we are living to our values of Lead the Way; Strive for Better; and Give a Damn. We are proud to have fostered a culture where our team members embrace and drive these.

Mark Nielsen, CEO, Talent