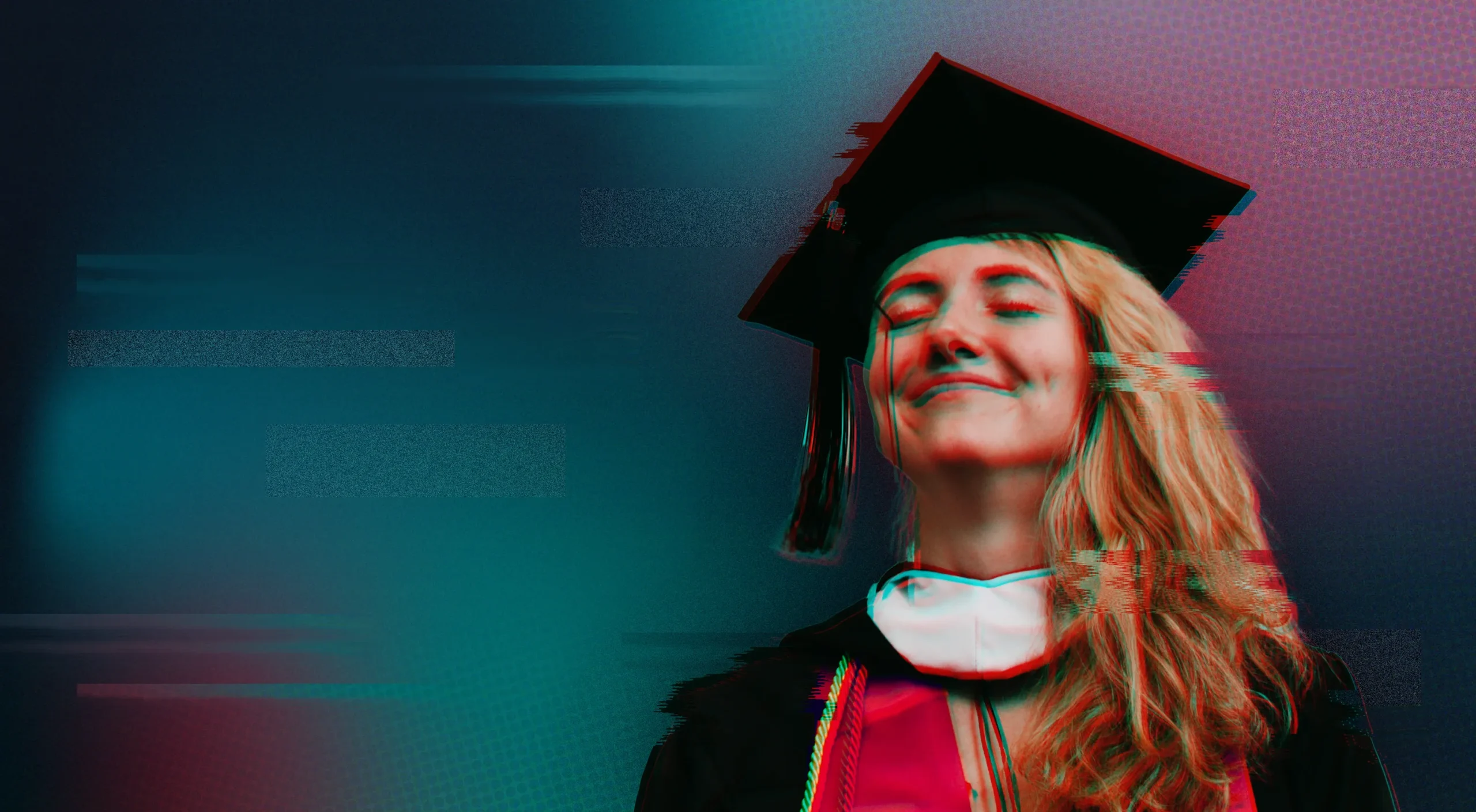 Higher education: A new class of talent
Education is evolving. We've got the experts to help you keep up.
Want to find out how we've built education technology teams around the world? Let's chat.
Driving digital transformation in education
Higher education is in the era of digital transformation. Institutions around the world are leveraging digital technologies to enable major educational improvements, enhance learner and instructor experiences, and create new instructional models. Students are now customers like any other, and their expectations are high. 
At Talent, we work with universities around the world and we understand the unique challenges facing tertiary education leaders. We're here to help you find the right people to stay ahead in an increasingly tough world.
Assessing your tech hiring challenges:
Catching the attention of top talent

With competition heating up, it can be a struggle to lure in the best and brightest tech pros with offers that stand out from the crowd.

Juggling book smarts and tech know-how

Finding tech professionals who can hack it in the academic world is a balancing act - you need experts who know their tech and the education sector.

Keeping up with the cool kids

Unis must keep pace with new tech to keep students and faculty cutting-edge. This means hiring tech pros who are up-to-date on the latest trends.

Staying cyber-safe

Universities need a strong tech team to stay safe from cyber threats. Prioritising cybersecurity is crucial in today's digital world.
#1

The leading supplier

Talent is the leading supplier of digital talent to higher education institutions in our largest market.

300+

Years' experience

Our experts have more than 300 years combined experience working specifically with tertiary education organisations.

345

Active contractors

Globally, we have over 300 active contractors working to help drive digital transformation within the education sector.

54

Education clients

Around the world, we are proud to support 54 institutions. Beyond recruitment
Our work with university clients extends far beyond simply helping them find the best talent (although we do excel at that). In addition to sourcing top specialists, we provide:
Workforce planning

We offer live hiring market insights to educate the educators and help them with workforce planning.

Learning & development

We facilitate presentations to post-graduate students in their final year of study on how to successfully engage with the local tech job market. 

Coaching

We provide group presentations and individual coaching to contractors at the end of a major program of work to assist them in securing their next career step.  
Proudly supporting the best and brightest education institutions
Contract
ASAP start, CBD/WFH hybrid - flexible working
Melbourne , AUS

This leading higher education institution is seeking an experienced Project Coordinator/Administrator to provide support across several business technology projects. Your brand-new role will see you...

IT Project Analyst - Cyber Uplift //...

Contract
AU$500 - AU$700 per day + Super
Sydney , AUS

IT Project Coordinator – Cyber Uplift // Government – Education // 6+ Month Contract 6 Month + Day Rate Contract Sydney NSW / Hybrid (2 days p/w in office) & Flexi working Government...

Senior Technical Business Analyst // Top 100...

Permanent
AU$138 - AU$145 per annum + 17% super
Sydney , AUS

Previous HR systems experience essential Working for a leading university Permanent ongoing role About the company Talent is partnering with a leading, globally recognised Australian university....

Technical Business Analyst

Contract
AU$800 - AU$920 per day
Brisbane , AUS

Talent International is searching for experienced Technical Business Analyst to join our client, a large education provider. This is an initial 3-month contract position based on the CBD...

Compliance Specialist | ...

Permanent
AU$130000 - AU$139000 per annum + + super + generous leave + more
Sydney , AUS

3 year initial fixed-term contract Highly reputable Australian Higher Education company with incredible benefits Must have hands-on operational compliance, safety &/or quality management...

Contract
ASAP start, WFH/CBD hybrid
Melbourne , AUS

Join this leading University as a Senior Project Manager to plan and coordinate delivery of the downstream application remediation workstream for the University's in-flight ERP Program. Whilst...

Contract
AU$30.00 - AU$39.40 per hour
Brisbane , AUS

Talent International is searching for experienced HelpDesk Officer (Level 2) to join our client, a large educational institution. This is a 4-month contract based in Brisbane. About the Role: In this...

Contract
AU$600 - AU$700 per day
Brisbane , AUS

Talent International is searching for an experienced Business Analyst to join our client, a leading educational institution. This role is based in St Lucia on a 3-month contract, with possible option...

Permanent
AU$65000 - AU$70000 per annum
Melbourne , AUS

Permanent Part time role – 2 days per week Epping & Greensborough Locations – Onsite Level 1 -2 Support Onsite Support services This Education Institution is seeking an Onsite...

Sourcing Manager | Research Equipment &...

Permanent
AU$150000 - AU$170000 per annum + generous leave + great benefits
Sydney , AUS

12 month initial fixed-term contract with potential to extend or become perm Research, Teaching Equipment & Consumables portfolio with 70+ exciting projects in the pipeline Highly reputable...
Project Transform was one of the key enablers of the University's Global Strategy in 2020 and the largest transformation project ever undertaken by the University. Delivering an initiative of such scale demanded a team of approximately 160 people, a large proportion of whom were contractors. The majority of these contractors were provided and managed by Talent. I have found the team to be knowledgeable, extremely well-connected, and personable in their approach. More importantly, the end-to-end approach to their service, mobility, and agility to deliver against challenging briefs has been a great support. I'd recommend that anyone undertaking a similar initiative engages with Talent as their resourcing partner.

Dave Bright, Head of Solution Delivery
SunDrive Solar

How we increased SunDrive's workforce by 160% in 6 months.

Sage

Recruiting 100 contractors for one of the world's largest software companies.

Yahoo

How we handle the entire end to end recruitment and management of the organisations permanent and contingent workforce.

Hitachi

Driving change with Hitachi and their world-first automated train management system.

Swinburne University

How we ensured DEI practices were put in place throughout the hiring process

BHP

Finding candidates with the right culture fit to fuel up BHP teams.

Encore

How we helped Encore find & attract top MS Dynamics Talent.

Immutable

How we supported a team go from 3 to 200 to support their next phase of growth.

Shockwave Medical

Putting people at the heart of shockwave's life-saving mission.

Ralph Lauren

Helping leading fashion brand Ralph Lauren scale its digital capability into new countries.

Isentia

294 Hires across 8 locations. Discover how our intelligent and high-performing RPO solution is helping Isentia scale.

Brighte

How we enabled an organisation to grow at a rapid place, while still maintaining a positive candidate experience and attracting top talent.

Tātaki Auckland Unlimited

How we secured candidates 2 placements per month over a 9 month period.

SRA Information Technology

How we helped source and relocate top talent to help a client in a limited tech pool city

Adthena

A business that trusts us with 100% of their hiring needs

Social Meteor

How we hired 90% of roles within 1/3 of the time required

Presence

Presence is a digital product consultancy with unparalleled expertise - find out how we help supply that expertise on-demand

Finoa

How we're helping tech scaleup Finoa meet its ambitious growth targets

Innovia

Helping Innovia build a diverse Microsoft Dynamics team across North America.

Ableton

Recruiting game-changing leaders to help scale one of the world's leading creative technology brands.

LIFELENZ

A company that has grown and evolved together with Talent.
For help sourcing top-of-the-class digital talent, get in touch.
---