Talent releases DEI Hiring toolkit: Less talk, more action
Talent releases DEI Hiring toolkit: Less talk, more action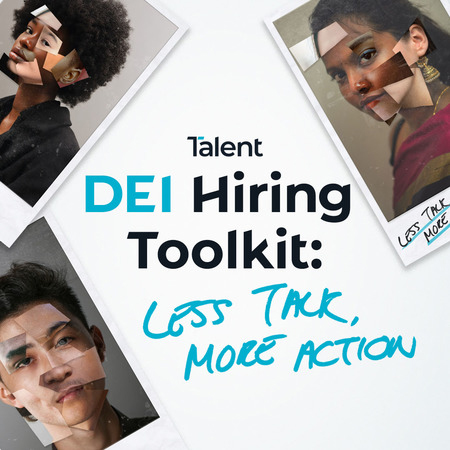 Talent is pleased to release 'DEI Hiring Toolkit: Less Talk, More Action', a brand-new introductory guide aimed to help businesses create more inclusive recruitment experiences for candidates and contractors. You can access the toolkit HERE
Focusing on six core areas in the hiring process – the job description, sourcing, shortlisting, interviewing, offering and finally onboarding. The guide has insights, tips, personal stories, and key takeaways which businesses can put into practice now.
The guide features personal stories from leaders working in the DEI space discussing a range of topics including ageism, youth employment, working parents, disabilities and more.
Key takeaways include:
Diversifying the interview panel
Revaluating job descriptions and ads
Shortlisting with diversity front of mind
Thoroughly considering how you can offer tailored support
Mark Nielsen, Global CEO Talent, said focusing on DEI is a must for all leaders. "There is so much to unpack and continue to learn around DE&I in the workplace. Leaders must be aware of the ever-changing world of work and address that what might work for one person, might not for another. Authenticity and vulnerability allow for real conversations. There's no denying that diversity in the workplace is extremely beneficial for building company culture, engagement, and performance. Not only that but it creates an environment where people love coming to work because they can be their most authentic self."   
Kara Smith, Talent Auckland Managing Director, commented that there needs to be a bigger focus on inclusion throughout the hiring process. "We're talking to many clients who acknowledge the importance of diversity and are actively driving this in their attraction strategies. But what about inclusion? What support will be there to help your more diverse talent be fulfilled and engaged? What data or stories are there within your environment to help you understand your starting position? We must be genuinely interested and curious about the experiences (both at work and outside of work) for more diverse talent to understand where you are starting from and what you need to tackle next. And it might not always be a comfortable conversation either."
Talent's vision is to build a better world of work for all.